Pickup / Local Delivery
Open 12pm – 7pm
Advance Orders Accepted

Closed Saturdays
Limited Menu
LUNCH
Shepherd's Greek salad – cucumbers / grape tomatoes / feta cheese / kalamata olives
Grilled hallumi salad – spring mix / tomatoes / nut free pesto / pistachios
$12
Salad Additions:
Grilled sliced steak –  $8
Chicken shawarma – $8
Falafel – $6
Mish Hummus with pita – $8
Smoked eggplant baba with pita -$8
Roasted beets atop of Labne yogurt – $6
Garlic French fries with feta cheese and zaatar -$8
Chicken shawarma in pita – tahini / cabbage / tomatoes, fries or salad $10
Vegan Falafel in pita – tahini/sour cabbage, fries or salad $9
Mamas chicken in pita – fries or salad $10
Lamb meatballs in pita – fries or salad $10
DINNER
Amish rotisserie chicken dinner served with;
Greek salad, hummus, zaatar potatoes, 'le French dad' baguette and cookies
1/2 bird – $26.
Whole bird – $32
Grilled marinated chicken shawarma for 2 people, served with;
Mish hummus, Greek salad, 'le French dad' baguette, warm pita and some cookies
$21
Vegan tofu and mushroom curry for 2 people served with;
brown rice, hummus, green salad, 'le French dad' baguette and some cookies
$18
Lamb meatballs in shakshuka sauce for 2 people served with;
brown rice, smoked eggplant baba, Greek salad, pitas and some cookies
$22
Home made pickled fall vegetables 1 qt – $10
Shakshuka sauce 32 oz – $7
Vegan/gluten free lentil soup 32 oz – $15
Vegan Mushroom barley soup 32 oz – $12
A la carte options:
Hummus and pita – $8
Smoked eggplant and pita – $8
Roasted beets with Labne – $6
Shepherd's Greek salad – cucumbers / grape tomatoes / feta cheese / kalamata olives
Grilled hallumi salad – spring mix / tomatoes / nut free pesto / pistachios
$12
Mamas chicken over rice – $12
Chicken shawarma over hummus – $14
Lang sausage shakshuka – $14
Spicy mushroom shakshuka – $12
Lamb meatballs over rice – $14
fresh. local. food.
Mishmish is the flagship and original New Mediterranean restaurant by chef, owner, and Chopped winner Meny Vaknin. Chef Meny combines his familial heritage cooking roots based on Moroccan cuisine with his fine dining experience as a New York Chef to create a fresh take on traditional dishes. The group also includes Upper Monclairs', Marcel Bakery and Cafe which was recently voted one of Montclairs' top twenty restaurants. Coming soon is Luisa Bakery, the latest addition to the group.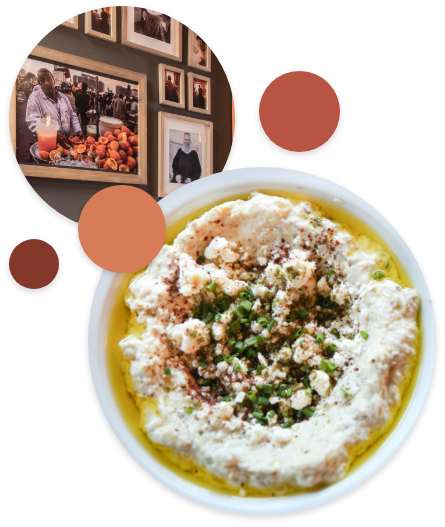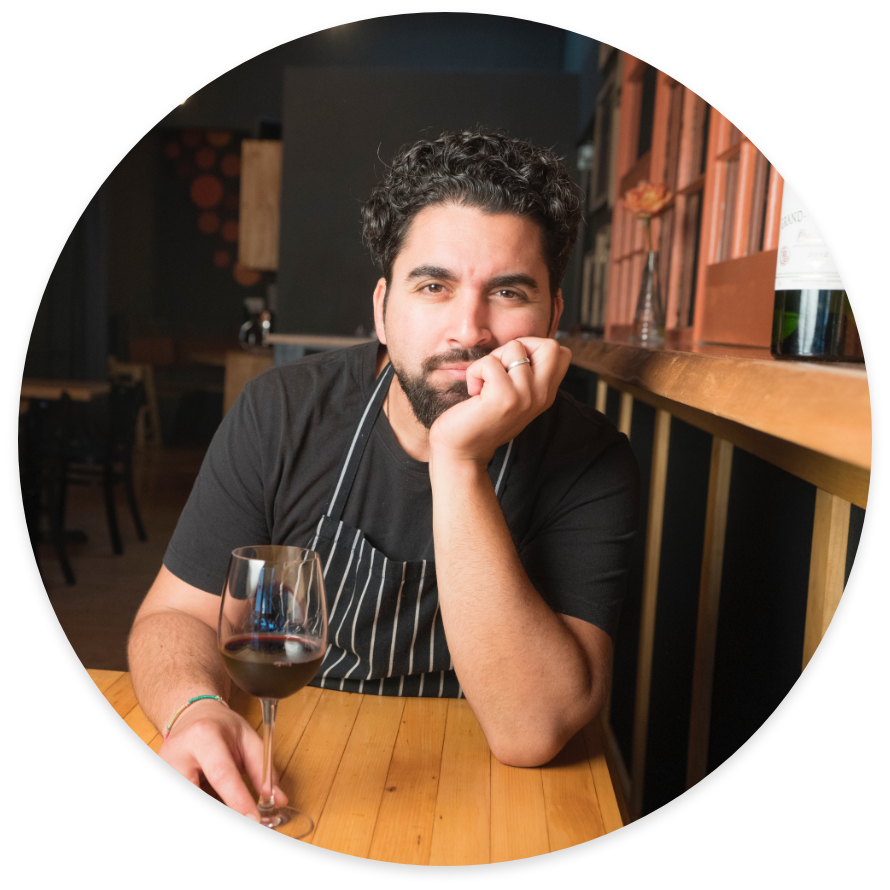 Chef Meny Vaknin
Meny Vaknin, the owner and executive chef of Mishmish Cafe, came to United States from Israel 10 years ago with the dream of becoming a professional chef. He set out to acquire a thorough knowledge of new and classic techniques, graduating with honors from the prestigious French Culinary Institute.
While he employs the skills and expertise acquired in his formal studies, in creating his dishes, he evokes the rich culinary legacy of Morocco that he was taught – with love – from his mother and grandmothers.
Location & Hours
215 Glenridge Ave
Montclair, NJ 07042
Get Directions
Monday – Thursday
11am – 9pm
Friday – Saturday
11am – 3pm / 5pm – 10pm
Sunday
11am – 3pm / 5pm – 9pm